Protective mask - 100% made in France
Double Air Flow filtration system
Our UNS1-certified Air Flow mask is a French-designed and French-made innovation born from the COVID-19 sanitary needs. Efficient with its double filtration system, it retains 99% of particles 3μm and up. Both its innovative filtration system and performances are AFNOR-certified (SPEC AFNOR S76-001). A must-have to get through the pandemic, our mask will also offer you protection year-round: pollution, workplace safety or personal protection at home…

Personal protective mask - UNS1
The adjustable, washable and bactericidal mask
Our UNS1-certified Air Flow mask is available in 2 sizes. Men, women or children over 8 : it will fit any face perfectly with its adjustable straps.
Designed both for professionals and the general public, click on to discover what Safe could look like !

Finally, a mask that's both economical and eco-friendly !
An economical mask with reusable filters
Save dollars and the planet at the same time with GEM mask : its washable filters are reusable and guaranteed for 50 washes, and over a year, you'll use just 35 grams of plastic, compared to over 1 kilogram if you use disposable masks ! And it's 100% recyclable too !
Scroll
Buy now
Protection for everyone !
General public, professionals or kids alike, the Air Flow GEM Mask is perfect for everyone ! Lightweight, it offers superior protection while still being confortable enough to wear all day, at work or at play !
COVID-19 pandemic / Viruses
Pollution / Allergies / Pollen
Workplace risks

A 100%-innovative product, made in France !
With its double Air Flow system, GEM mask offers a superior efficiency : its two permanent and interchangeable filters retain 99% of particles 3μm and up. Hurry up and find out more !

Air Flow filtration mask
The adjustable, washable, sterilizable and bactericidal mask !
Lightweight, soft, comfortable, and designed for long-term wear, find out more about our GEM mask and its double Air Flow filtration system. With its 2 easy-access replaceable filters and its soft material, this mask fits all ! Find out more about the design of this 100% French-made product !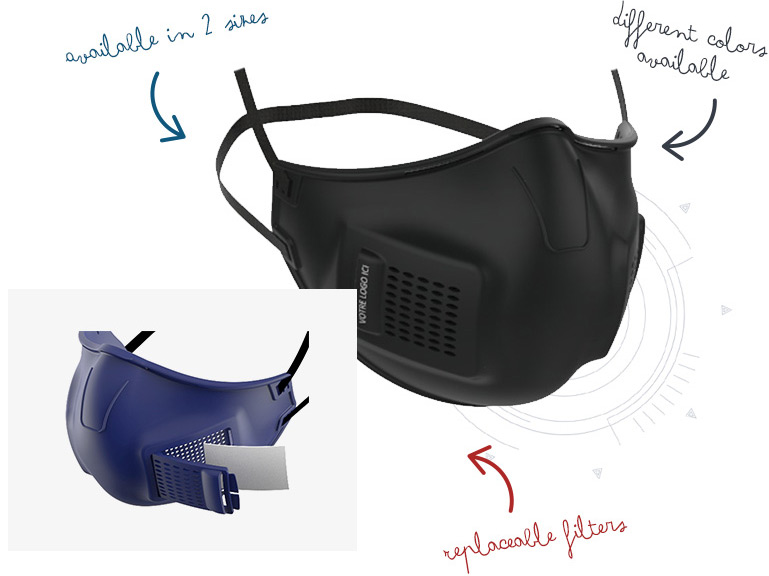 Filtration and performances AFNOR-certified (SPEC AFNOR S76-001)
" Its double Air Flow system offers an efficient ventilation while retaining 99% of particles 3μ and up through both of its permanent filters. "

Gem Mask - Air Flow
A patented technology
A French innovation
Designed for everyone, our personal protective mask offers a filtration system with easily removable and replaceable filters guaranteed for 50 wash cycles. Consumers and professionals (custom colors and logo printing available on request), wonder no more and order yours now !

An Economical and eco-friendly mask
GEM Mask is both economical & eco-friendly !
GEM Mask is economical, with a daily cost of just 0.05€ for 50 washes and a daily filter change.
GEM Mask is eco-friendly, with just 35 grams of plastic per person for a year-long use, compared to over 1 kilogram when using disposable masks !
GEM Mask is also 100% recyclable !

Happening now
Gem Mask Air Flow
Latest news